With our ears still ringing and our livers having taken quite a battering, it's time to continue north. Mrs Motorcardiaries doesn't share quite the same enthusiasm as me for car museums and niche automotive diversions but she has granted me the opportunity to take a pilgrimage to Penske's headquarters in Mooresville, about half an hour outside Charlotte.
While this does mean missing the Hendrick team's museum and the NASCAR Hall of Fame, marriage – so I am told – is all about compromise so I accept the decision with good grace and sulk for barely an hour in response.
Sadly Penske's shop is all shut up as it's Sunday morning but we're able to drive up to the door, finding a huge, and hugely impressive, facility. All of Penske's US race operations are based here. That means IndyCar, NASCAR and whichever sports car campaign is prevailing at the time. Soon the team will be returning to endurance racing with Honda / Acura. Maybe the cars are in the shop when we visit…
Tucked away in a rural corner of a fairly nondescript town, we do at least get the chance to use the Challenger for some photos. I just wish we had a blue Camaro to pay tribute to the great Penske hero Mark Donohue who cleared up aboard a Sunoco Camaro in the Trans Am between 1967 and 1969. Maybe one day we'll come back in a more appropriate muscle car.
I'm amused to find Penske has a mailbox – much like a normal residential abode, only this one is resplendent in corporate black and red. There being little to divert us here, we move on and stop at Dale Earnhardt Jr.'s base, JR Motorsport. This is the home of his marketing and business activities, as well as the race shop which prepares his Xfinity Series stock cars. Sadly the place is even more deserted than Penske so we miss the chance to purchase more items of gaudy merch or have our photo taken with the wax effigy of Jr.
Sunday in this part of the world is pretty quiet so we press on towards our destination and home for the next few days: Asheville. But not before we've passed a humorous road sign depicting a traditional farmer on a tractor. We're not sure if it's deliberately self-deprecating or simply an accurate representation of agricultural life in the North Carolina area. Either way, it raises a chuckle in the Challenger. We pick up provisions from a local Walmart, including a bag of Caramel M&Ms – as per Kyle Busch's All-Star Race winning livery. They're pretty tasty but not quite as good as the peanut butter equivalents. If I reveal a diabetes diagnosis in a future blog then please be assured that NASCAR marketing is entirely to blame.
We skirt Lake Norman and stop for a bite on the shoreline which is stunning. Most of our short (by the standards of this trip, at least) journey features densely forested vistas which roll to the horizon. This splendour is rather interrupted when we run into serious rain; but you don't get giant green trees without a little precipitation, right? We just wish it could've done all its precipitating a few days earlier.
This pretty torrential rain is a feature of our stay in Asheville. While it's never cold, it does rather take the edge of a truly stunning part of the world; though it does offer a transcendent, ever-changing horizon to enjoy. At least that's how I try to cheer up a despondent Mrs Motorcardiaries.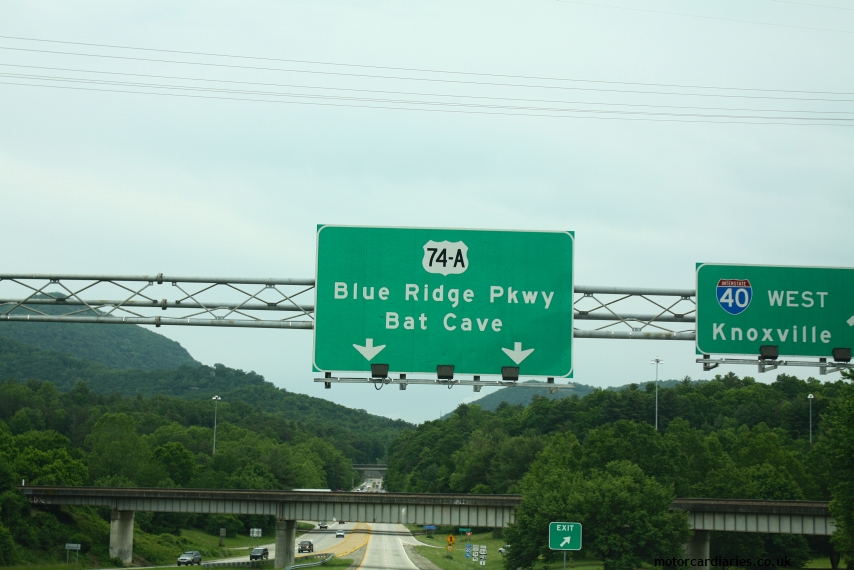 Our base for the next few days is the only truly extravagant hotel of our stay: the Omni Grove Park Inn. It's a massive resort set high above Asheville with its own verdant golf course offering a foreground view, with the Blue Ridge Parkway in the distance. The hotel is evidently fairly historic by American standards and I never quite shake the notion that it's a little too plush for a couple of old moshers like us. That said, we're treated well. The food and drink is superb and there's enough latitude among the dining options to permit us to eat at a vaguely bearable price point.
Asheville appeared on my radar after a friend moved there from Virginia. A little research revealed a bustling university town described as being like a small Austin with a hipster vibe. Live music abounds and the town has become legendary for its beer-brewing scene, with over 40 breweries in the locale at the time of our visit. We have a go at visiting as many as possible.
The coolest end of town is South Slopes where the greatest congregation of breweries is to be found. It helps to head out relatively early as most places stop serving between 10pm and 11pm – the result of a very virtuous 'gentlemen's agreement' between the various brewers to help customers savour the beer, rather than seeking dizzying inebriation. With most of the hoppy concoctions starting at 6%, it's not hard to understand why this agreement was proposed.
Each brewery has a different vibe but we become particularly fond of Burial. As usual we prop ourselves up at the bar and chat to the serving staff, who are only too keen to fill us in on the local scene and their awesome home brews. All of these places brew within sight of the bar and it lends them an authentic odour. One brewer urges me to take a behind the scenes tour. By this time, his potent concoctions have taken their toll but I try to appear vaguely lucid while we discuss the challenges of protecting floor slabs from the corrosive liquids which are part of the brewing process. At least I think that's what we discussed.
Whatever, we enjoy a fabulous time exploring Asheville's lively and friendly drinking scene. We develop a serious addition to sour, a type of beer brewed with fruit to give it a distinct citrus tang. It sounds horrendous but it's horribly addictive and we export a few cans back to Blighty to enjoy at our leisure. Mrs Motorcardiaries is so infatuated that she drinks half of her allocation before we've even left the States.
I'm conscious that we're a week into this special trip and I've barely made mention of our badass wheels. In fact I've spent more time discussing craft beer than I have our big grey Challenger. Asheville offers us the opportunity to drive it off the interstate and onto some winding mountain roads.
The huge Blue Ridge Parkway runs for 469 miles through Virginia and North Carolina. Unfortunately time constraints are such that we only explore a short section but it's a truly spectacular road – and one which genuinely bears comparison with the best I've found in Europe and Australia.
The speed limit is low but that's not a massive problem on a rainy day in a chunky muscle car. The road is serpentine in its writhes and twists. For much of our drive we traverse a high ridge which means spectacular views periodically reveal themselves as the topography and vegetation permit. Our elevation means that any views which do reveal themselves are invariably breath-taking. As our drive proceeds, the weather closes in and the clouds thicken. This serves only to enhance the atmosphere and the clouds hurtle along the valley creating an evolving landscape every time we stop.
The Challenger is, erm, challenged on this kind of road. Heavy braking into tight bends and agile flicks through piff-paffs do not play to its strengths. That said; it's an entertaining companion, even on roads more suited to a mid-engined flyweight.
The chassis is nicely rear-wheel driven and reacts well when you start to press on a little; the back squatting under load. The traction is strong and it's actually more convincing the harder you drive it. Even so, it feels miles off a European mid-sized saloon and a Giulia or 3-series would run rings around it dynamically.
In spite of those reservations, it remains one of the most captivating cars I've ever driven. Over the whole trip we would cover 1,800 miles and it was never less than awesome fun. A reactive eight-speed gearbox helps and it launches off the line with serious conviction, banging up through the gears with ceremonial fireworks on every up-change. The noise is outrageous for a big sedan – bold, brassy and resonant. It might lack the dense thunder of a NASCAR but in confined underground car parks, it's hilarious lighting up the rear tyres in a demonic sonic assault.
The Challenger's sheer charisma and bombastic drivetrain are enough to out-weight the bland interior and mediocre dynamics. This is a true blue muscle car and the perfect counterpoint to anything on the holiday rental market back in Europe. I'm an addict.
From Asheville we head pretty much due west into Kentucky, our next destination being Mammoth Cave – a location with convenient access to the National Corvette Museum. In my mind's eye, Kentucky is a flat mid-western state with little to offer (excuse me, Kentucky residents) beyond endless agriculture cast across flat plains. The area adjoining North Carolina couldn't be further from this vision.
The vast arboreal vistas of previous days continue apace. The roads are truly stunning: wide dual carriageways which stretch to distant horizons. The sun casts dramatic rays through patchy clouds, lending everywhere a slightly ethereal, divine atmosphere. Once again, these aren't driver's roads in the 'dab of oppo out of the hairpins' sense – these are highways on a scale we can't comprehend in Europe. I take a few check measures and realise that often we have a full five miles of macadam stretching to a vanishing point on the horizon. Vultures circle above, gliding on thermal currents without any apparent effort. It's quite staggering.
Mammoth Cave is really something – a UNESCO World Heritage Site and home of the longest cave system known to man. Of course, we don't bother with in any that geological stuff, we're here for cars – though once we arrive I'm gutted we can't explore the area a little more as it is fascinating. We are staying overnight in a charming bed and breakfast – such a novelty in the US, where soulless chain hotels proliferate.
The B&B sits within a hilly, wooded area and the surrounding roads are fantastic: smooth, well-sighted and blessed without another vehicle in sight. This would be the perfect area to exercise one's Lotus or Caterham early on a Sunday morning, though I doubt one could do so inconspicuously.
The greatest privilege of the B&B reveals itself on Friday morning over breakfast: scores of tiny hummingbirds swarm (flock?) around feeders adjacent to the owners' stoop. Apparently little bothered by our presence, they feed voraciously, buzzing one another out of the way as they do so. Their remarkable proximity enables us to take some striking photos using a telephoto lens. We sit in rapture with our morning coffee for what feels like hours. These remarkable miniature birds are worth the trip all by themselves.
Eventually we have to drag ourselves away from our avian friends and (rather counter-intuitively given our general bearing) head south to Bowling Green. The drive finally reveals the flat mid-western farming territory I'd always imagined. Near Brownsville we spot a couple of nodding donkeys so assume they are pumping oil but this looks to be very much on a domestic scale. I wonder whether they could be used to distribute potable water. Either way, they're an atmospheric addition and not typical of life in rural Yorkshire.
The agricultural land is as flat as one might imagine, with grain silos and other farming ephemera dotting the landscape. The farmhouses are a long way from the quaint stone cottages of ole England. Towering neo-classical dwellings, replete with ostentatious pillars, modest they are not.
The National Corvette Museum sits close to the factory where every one of America's sports cars is produced, though it is an independent facility not owned by GM. It serves to celebrate every aspect of the Corvette and its pivotal role in American automotive society as the aspirational motor of choice for domestic gearheads.
Naturally, it veers occasionally into pastiche (check out the signs for the lavatories) but one might equally accuse the great technical museums as Speyer and Sinsheim of the same crime. It's part of the charm of visiting museums in different countries – each one is representative of its own automotive culture.
The collection of cars is deeply impressive and charts the history of the model from its earliest C1 roadster through to the latest C7. Each visitor is offered the opportunity to sit in a C7 and it's a genuinely lovely environment with supportive seats, an ergonomic interior and tactile controls. I'm impressed.
The car's history is charted through its evolution including important examples of each model including the former Nürburgring lap record holder – a vision of extreme yellow which lapped the North Loop faster than a Ferrari Enzo. Elsewhere are celebrity-owned cars, unusual prototypes and a host of Indy 500 pace cars.
While there is none of the recent Pratt & Miller GT contenders on display, the model's racing history is given due reverence, from parochial club races up to Le Mans class success. It's impossible to conceive these days of a GT class at Le Mans without a brace of thumping yellow Corvettes hassling the European grandees.
A large gallery is given over to modified 'Vettes and there is a great selection from a number of different tuners, some familiar but others new. Highlight of the display is a trio of Greenwood-modified examples. While a couple of the outlandish race cars have graced Goodwood in recent years, I'm never previously seen a road car – let alone three. The turbocharged, wide-body coupes are just as outrageous as the racers, with wonderfully period graphics and flared arches to make a 911 RSR blush with inadequacy.
Also in the same gallery is a Callaway Corvette Sledgehammer – once among the very fastest road cars in the world. As a child I could quote its performance figures verbatim, though sadly creeping middle age has dulled those synapses somewhat. This is another first, though – as I suspect barely a single Sledgehammer left North America and I've certainly never seen one in the flesh before. It's actually quite an elegant device by the standards of this company and it could pass for a genuine GM product with the right marketing. I wanted one when I was 10 years old and I still want one now.
The National Corvette Museum made global headlines in 2014 when a cavernous sinkhole opened up under its famous dome, swallowing a handful of cars in the process. The museum hasn't sought to hide this history and the dome features a taped line on the ground to illustrate the extent of the void. It's hard not to conclude how fortunate it was that the sink hole opened up overnight and that nobody was hurt.
The event severely damaged several important Corvettes, a couple of them way beyond repair. Today they sit on a plinth as a display in their own right, a rather sad sight though the collateral damage could have been so much worse. As a museum feature, this is a quite fascinating, macabre – and certainly unique – display.
We have just long enough to pose for a cheeky photo with Dodge's finest outside a totemic demonstration of GM's achievements before we plough north. Finally we are on the last leg of our pilgrimage to Indianapolis and the greatest spectacle in racing. Unsurprisingly, I'm a little giddy.
Links:
http://www.jrmracing.com/default.aspx
http://www.teampenske.com/about/index.cfm?cid=14190
https://www.omnihotels.com/hotels/asheville-grove-park
http://www.corvettemuseum.org/